The idea of renovating your kitchen is very exciting once you first start considering it...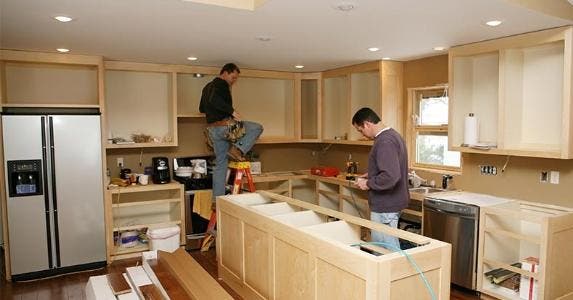 The idea of renovating your kitchen is very exciting once you first start considering it as a goal that is achievable. 
You have many great ideas that you've written down in your notebook for the ideal kitchen that express your personality, but you never considered the reality of it. Here is a list of things that might have escaped your mind during your venture to become your own personal interior designer. 
Your budget
One of the main important things is what's in your pocket. Spend a lot of time considering the small and big things you have to spend money on to renovate your kitchen. Thinking of painting your kitchen walls or your kitchen cabinets? Add the cost of the paint brush, painter's tape, sandpaper, and the foam roller. Thinking of changing your cabinets or your kitchen sink faucet? Consider the cost of the screwdriver, wrench, and the tape measure. Thinking of changing your shelves? Don't forget to add the money you will need to spend on the nails and the hammer. Keeping in mind the cost of the little things along with the cost of the big things will help you from going over the budget.
Choosing a kitchen layout
If you don't like your kitchen's layout, don't feel like you can't change it. The kitchen is where you prep meals for your family and bond with your partner while you make dinner together. 
Whether your kitchen layout needs to be changed so you can overlook the view of your garden from your window while you cut vegetables or you want the sunlight to shine through as you make your eggs in the morning it's a very important aspect of renovating your kitchen. If you can't change your kitchen layout, consider ways to accommodate your daily life routine without completely changing it. You can fill up space by adding shelves or cup holders under your cabinets. Another option is to invest in a kitchen peninsula to create a different shape to your kitchen layout.
The size of your kitchen
Before deciding to add an island to your kitchen or create extra space for storage, consider the size of your kitchen. Also think about if adding extra cabinets and counters will make it hard to have multiple family members and friends in the kitchen with you. Seek professional advice from an architect or an interior designer to help you figure out the best way to minimize the risk of making your kitchen appear smaller during the renovation process.
How old is your home
Before spending money on the newest and smartest technology the market has to offer, discuss it with an architect or engineer to make sure the condition of your home can handle all the installation of a smart dishwasher or refrigerator. It will also help to insure you won't break the bank over remodeling your home's kitchen.
Give a makeover to what you already have
You don't need to toss away your current cabinets to renovate your kitchen. There are ways to create a rustic exterior to your cabinets if you would love to change your kitchen to a farmhouse décor. Paint your kitchen cabinets if they lack color and you want to create a newer looking kitchen in your home. Change the knobs of your cabinet to something more glamorous and shinier to update your current kitchen cabinet. 
Don't forget your lights
One of the most effective ways to give your kitchen a new look is through your light fixtures. Think of adding a beautiful and classy centerpiece such as a chandelier to replace the single lights on the ceiling of your kitchen for a modernized upgrade. Install dimmable LED lights under your kitchen cabinet for a better lit working area in your kitchen. If you have glass cabinets, add small lights to display your collection of fine china.
Upgrade your countertop
Appliances and cabinets aren't the only thing that needs to be changed to improve your kitchen. The countertop is the main working area in the kitchen, consider the different options you could choose from to upgrade your countertop. 
If you're a major food lover and want to be a chef in a different life, change your countertop to stainless steel to create a professional restaurant effect in your home. If you're trying to green and love recycling, change your countertop to reclaimed wood for a gorgeous farmhouse look. Want the marble countertop without breaking your bank? Consider getting high-quality quartz for the same sophisticated look.
Give your kitchen windows a lovely treatment
Kitchen windows are easily forgettable in the renovation process but it's important to remember to be able to control the natural light entering your kitchen. Place window shutters to give your kitchen an adorable old country style without dipping too much into your pocket. If you want a more explicit approach, look into placing drapery with printed fabric or coordinate colors with the objects in your kitchen or your kitchen stools.
Be creative with increasing storage
During the process of remodeling your kitchen and Choosing A Kitchen Layout, keep in mind the ways that you can create extra storage room. 
Build shelves on the inside of your kitchen cabinet to have room to store all kinds of spices you love to use to cook without it taking a lot of room. Hang a pegboard on your wall to make storing pots, pans, and spatulas easier and it's adjustable any time you need to change it. Use the empty space on top of your fridge to store cutting boards and pans which will make room in your cabinets to store other things. Take advantage of the sides of your cabinets to hang a rail that you can use to hang pots or a shelf to organize your collection of jars.
There's a lot to remember when it comes to building the kitchen of your dreams and it's your chance to make it come true in life. Don't let anything discourage you and find an alternative to what's not affordable.